Find the Perfect Modesto Maternity Photographer
Finding a maternity photographer while pregnant can be quite a daunting and challenging task. With so many options available, it can be overwhelming. Trying to narrow down the choices and find the perfect Modesto Maternity Photographer for capturing this special time in one's life is quite the job. It is essential to find a photographer who not only specializes in maternity photography but also understands the unique needs and desires of expectant mothers. Additionally, timing is crucial as pregnancy progresses rapidly.  It is important to find a photographer who is available during the desired timeframe.
Furthermore, finding a photographer who creates a comfortable and relaxed environment is essential, as maternity poses can sometimes be physically demanding and require patience. Ultimately, the difficulty lies in finding a maternity photographer who can adequately capture the beauty and essence of pregnancy while providing a memorable and enjoyable experience for the expectant mother.
Pregnancy is a truly remarkable time in a woman's life.  It is filled with anticipation, excitement, and the incomparable beauty of motherhood. As the months go by, the body undergoes incredible changes.  Capturing these precious moments becomes of utmost importance. However, finding the perfect maternity photographer who can skillfully preserve the essence of this fleeting period can be a daunting chore. But fear not, this article is here to guide you through the process of selecting the ideal maternity photographer in Modesto.  Ensure that you can cherish your pregnancy memories forever with stunning photographs that embody the pure beauty of motherhood.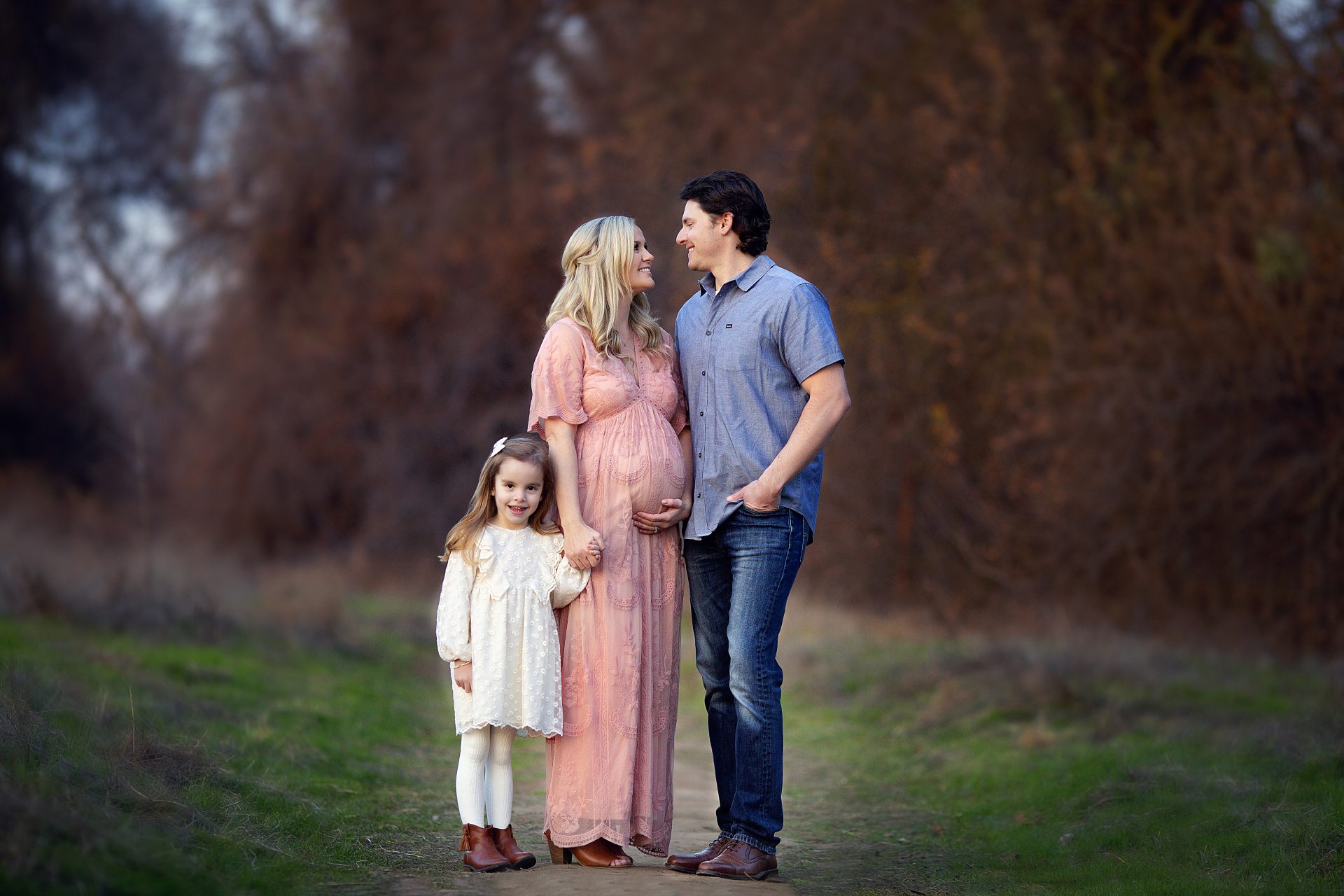 Bring the Family to Your Modesto Maternity Photo Shoot
Bringing your family or significant other to Emily Marie's Maternity Photo Shoots can be an incredibly special and meaningful experience. Pregnancy is a beautiful journey that involves not just the expectant mother, but also her loved ones who offer support and share in the excitement. Including your family or significant other in these moments can capture the bond. The love that exists within your family unit will create memories 
that will last a lifetime.
Having your family or significant other present during the photo shoot allows for a unique opportunity to highlight the connection and anticipation that is felt during this precious time. The presence of loved ones can create a relaxed and comfortable atmosphere. It can enable the true essence of your family dynamics to shine through in the photographs. Emily Marie, with her expertise in capturing raw emotions and tender moments, ensures that each photo reflects the love and joy felt by all family members during this magical journey not just Mom.
Furthermore, including your family or significant other in the maternity photo shoot can serve as a way to strengthen your bond. It can even create a lasting connection with your unborn child. Seeing your partner or family members showering affection towards your growing belly not only shows the essence of their support but also signifies the loving environment your child will be born into.  Not to mention it helps make for a perfect maternity shoot. These images become a symbol of togetherness, love, and unity that can be cherished by all family members for years to come. Emily Marie's ability to capture these remarkable moments ensures that each photograph is not just a picture. The photos create a breathtaking piece of art that tells the story of your family's unique journey into parenthood.
Why Choose Emily Marie as Your Photographer in Modesto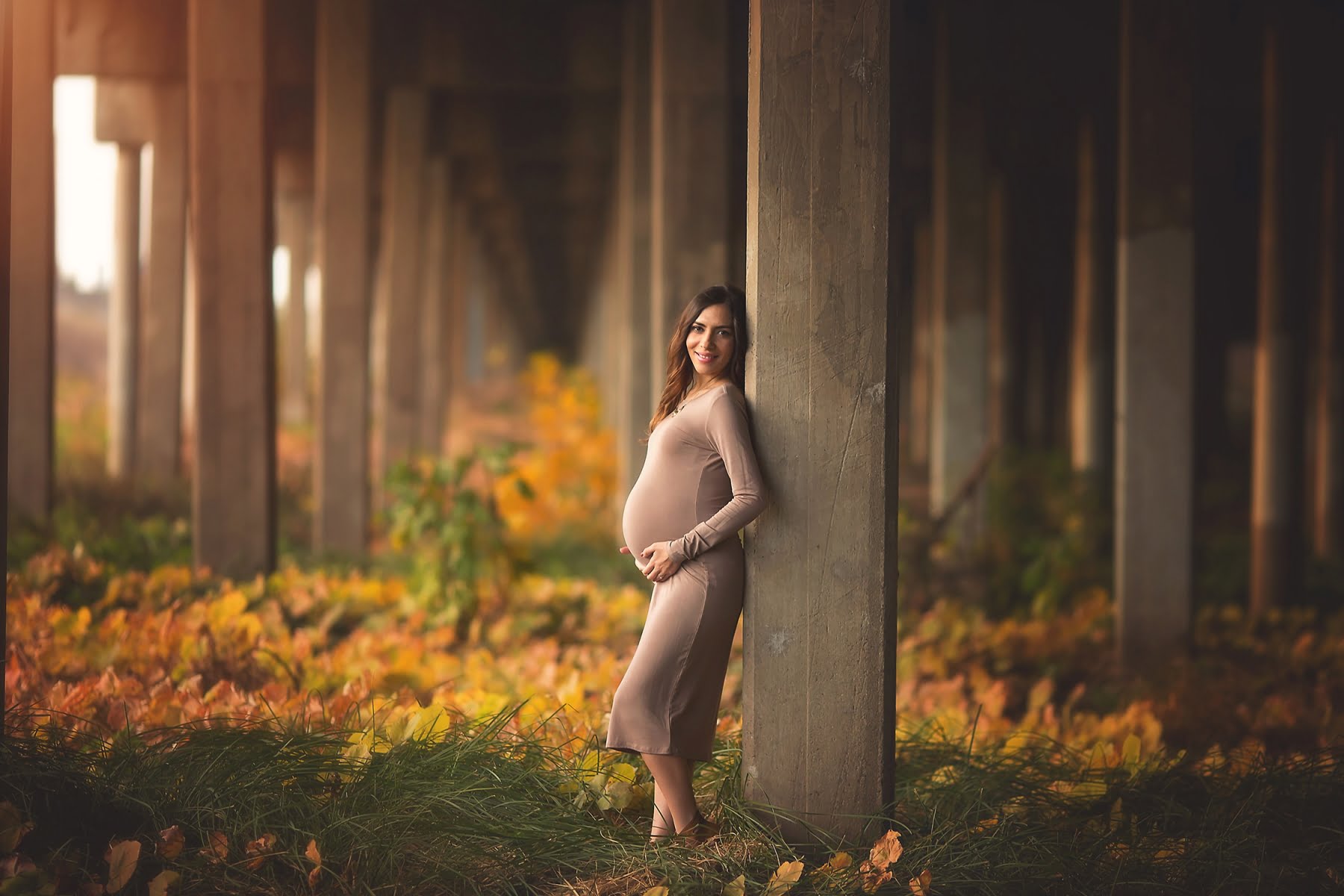 Emily Marie is undoubtedly the perfect Modesto maternity photographer for a multitude of reasons. Firstly, her passion and dedication towards capturing the essence of motherhood are unparalleled. She understands the significance of this precious stage in a woman's life. Emily Marie goes above and beyond to ensure that every moment is flawlessly documented. From the glowing smiles to the gentle touch on the baby bump. Emily has a keen eye for capturing the most intimate and cherished moments during pregnancy.
Moreover, Emily's creativity knows no bounds. She effortlessly combines her innate artistic abilities with her knowledge of photography techniques.  This results in breathtakingly unique and captivating maternity portraits. Emily has an innate ability to make every expectant mother feel like a true goddess, highlighting their natural beauty and radiance. Her attention to detail is impeccable.  Constant in ensuring that every pose, backdrop, and lighting element enhances the overall enchanting aesthetic of the photograph.
Furthermore, Emily Marie strives to create a comfortable and relaxed atmosphere during each photoshoot. She understands that many women may feel vulnerable or self-conscious during their pregnancy.  She effortlessly puts them at ease with her warm and friendly demeanor. Emily's ability to connect with her clients on a personal level allows her to capture genuine emotions, resulting in photographs that exude love, joy, and anticipation.
Emily Goes the Extra Mile
In addition to everything else, Emily's professionalism is unmatched. She takes the time to get to know her clients. She understands their individual preferences and desires for their maternity photos. Emily meticulously plans each session, considering the location, wardrobe choices, and overall theme to ensure a seamless and unforgettable experience. Her commitment to providing high-quality images is evident in her post-production processes. She masterfully edits each image.  Also enhancing colors, and correcting any imperfections, resulting in photographs that are truly stunning and timeless.
Lastly, Emily Marie's reputation in the Modesto community speaks for itself. She is highly regarded and sought after by expectant mothers for her expertise and undeniable talent. Her clients rave about her ability to capture the essence of their journey to motherhood.  Creating cherished memories that will be cherished for a lifetime is her specialty. Emily's dedication to her craft and unwavering commitment towards providing exceptional service make her the perfect choice for anyone seeking a Modesto maternity photographer.
Finding the Perfect Modesto Maternity Photographer Isn't Easy
Trying to find the right photographer anywhere is hard enough.  Finding the perfect Modesto Maternity Photographer is even more difficult.  However, there are several compelling reasons why you should choose Emily Marie as your perfect Modesto maternity photographer. First and foremost, Emily's passion for capturing the beauty and essence of motherhood shines through in her work. She understands that pregnancy is a time of immense joy and anticipation.  Always dedicated to ensuring that this special phase of your life is documented in the most exquisite way possible.
Emily's exceptional eye for detail and creativity sets her apart from other photographers. With talent for finding the perfect lighting and angles,  she is able to highlight the natural glow of expectant mothers. Her ability to seize the most candid and heartwarming moments is truly remarkable. As she effortlessly captures the love, connection, and excitement between parents-to-be.
Not only is Emily an expert in her craft, but she also possesses a warm and approachable demeanor that instantly puts her clients at ease. She understands that being in front of the camera can be intimidating or even scary. Especially during such an intimate phase of life, her comforting presence and gentle guidance create a relaxed and enjoyable photoshoot experience. Emily believes in building a personal connection with her clients.  To do so she really takes the time to understand your vision and desires. Nothing is more important than making your unique story as authentically depicted in every shot as possible.
Have questions about Modesto Maternity Photography?
Additionally, Emily's expertise in maternity photography is backed by years of experience and a wealth of knowledge. She stays up-to-date on the latest trends and techniques. Her goal is so that she can deliver stunning images that stand the test of time. From choosing the perfect location to providing expert styling advice, Emily goes above and beyond to ensure that every aspect of your maternity session is flawless.  See some of Emily's Maternity Shoot Work here.
Finally, Emily's dedication to her clients extends above the photoshoot itself.  She takes pride in providing exceptional customer service.  Always going to whatever lengths to ensure that her clients are completely satisfied with the final product. Whether it's creating custom photo shots, framing the most cherished images, or assisting with any other post-shoot needs, Emily's genuine commitment to her clients' happiness is unmatched.
In conclusion, if you are looking for a talented, passionate, and personable Modesto maternity photographer, Emily Marie is undoubtedly the perfect choice. Her ability to capture the beauty of pregnancy in a unique and artistic way, combined with her exceptional customer service, will leave you with treasured memories that you and your family will cherish for a lifetime.